Grampians Paradise Camping and Caravan Parkland offers:
Large Grassed Sites, Mountain Views, Shady Trees, and Lots of Space.
Facilities include hot showers, children's bathroom, disabled toilet and shower and camp kitchen.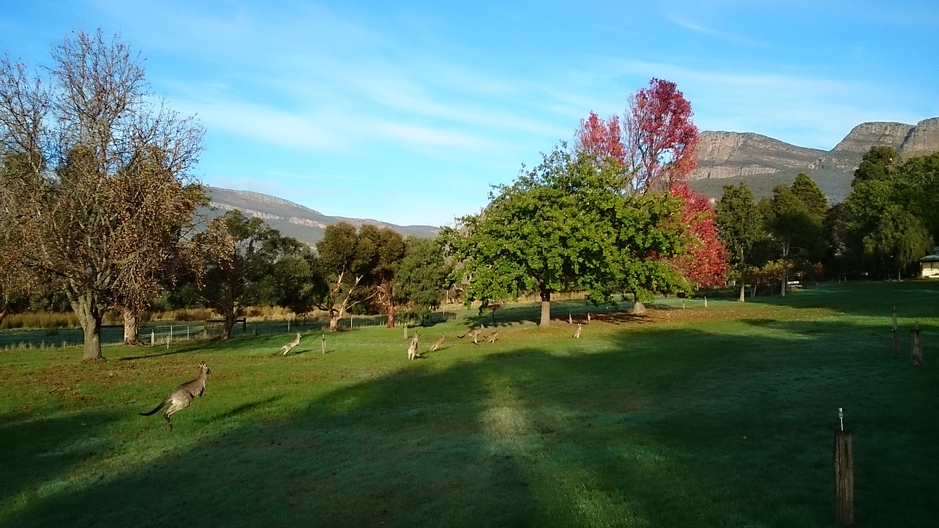 10th December 2016
Sites (powered and unpowered) and on-site caravans are available for all dates, (plenty of choices up until christmas).
However the number of available sites (particularly for powered sites) are reducing for long weekends and the Christmas to New Year Period. Please contact us soon if you are looking for a stay on a long weekend, or other peak time.
Christmas 2016, New Year 2017 and summer holidays - sites and onsite caravans available.
At this time we still have a good range of unpowered sites available, as well as some powered sites (limited numbers - but for a couple of nights there are now no powered sites left) and some on-site caravans available. There are shady sites left and some really good options for groups (even very large groups) still available. Please call us if your are wanting to book for a group, so we can help you work out what might work for you.
Spaces are booking fast so please enquire soon if you want to get the choice of sites.
Easter 2017: Sites are booking fast...
Half of our sites for Easter 2017 are already booked.
If you are wanting to book a powered or unpowered site, or one of our vintage or retro on-site caravans, please book now while there are still some choices available.
If you are wanting a number of sites together for a group booking, this is also still possible, with some great combinations of sites that would work really well for groups, but these are likely to disappear quite fast.
Spring Specials: We are offering a special of 5% discount for any booking of 5 nights or more at any time*.
Last year we introduced a number of new specials that are available upon request (these are listed near the bottom of the Tariffs Page). These include a special of 5% for a two night booking for weekends that are not peak times, or stays of 5 nights or more at any time*. To take up on these specials you will need to contact me by phone or email (you can also use the online inquiry form on the Inquiry Page) and request the special. For more details and information on conditions please see the Tariffs Page.
To be able to claim a discount (that is relevant to your booking) please remember to request the discount on making your booking.
* 5% special's are at peak times are only available where the discounted total is greater than the minimum booking fee.
We have a Lounge with Air Conditioner and Glass Front Wood Fire.
The Hub is a great place to relax in the evenings, or even day time. There are comfy lounge chairs, some tables and table tennis table too. We can get the wood fire going in the hub to give you a warm place to relax on cold nights. On very hot days we will have get the air conditional going in the Hub to give a cool place to escape the heat.

Kahuna and Heartworks Lomi Lomi massage at Grampians Paradise.
Nessa (Vanessa Beckitt) brings some incredible bodywork to Grampians Paradise - you can have a massage without having to drive anywhere! As Aidans wife, Nessa is involved with campground tasks part of the time, and enjoys spending much of her time working with bodywork and healing.
Our massage studio is tucked away in the camping ground, despite being fairly close to the office, you can enter through the doorway and forget the concept of time and the stresses of the busy world. It really feels like a world away from everything.
In September 2016 Nessa will be travelling to Queensland to extend her Kahuna Massage Skills on a Level 6 and Level 7 retreat. After her short time away, Nessa will once again be offering Kahuna Massage, Heartworks Lomi Lomi and Arvigo Mayan Abdominal Therapies® as well as Crystal Sound Therapy and Sound Spas using the Quartz Crystal Singing Bowls within the Innerji Sound and Massage Studio room, from Saturday 17th September 2016. Appointments will be available at 10am and 2pm Wednesday to Sunday each week (up to 2 hour treatments), and other times may be possible by private arrangement.
For information on Kahuna Massage, Arvigo®, Heartworks Lomi Lomi and other therapies offered by Nessa at Innerji Sound and Massage see http://www.innerjisoundandmassage.com.au/page3.html
and this really great video demonstration - Kahuna Massage demonstrated by High Spirits Retreat / Mette's Institute , from where Vanessa has completed her Kahuna massage training.
Winter Specials: 20% off weekday bookings* in June, July and August...
There is a special running until 26th August 2016 which gives 20% off any massage and treatment bookings, please contact us and let us know that you wish to take up the Winter Special Offer.
We also have a discount for Guests of Grampians Paradise Camping and Caravan Parkland (campers must be booked in for a minimum of one night in the camping ground) which gives 10% discount for any treatment on any day of the week between 9am and 5pm - Camping Guest Special*. If you wish to take up this offer, please let us know when you make a booking at Grampians Paradise or let us know at Innerji Sound and Massage so that we can make sure there is a time available for you. Please note that we recommend making a booking in advance as we cannot guarantee that there will be availability for walk-ins.
*Specials operate independently of each other - only one discount can be selected per session.
Winter Special only applies between 9am and 5pm on weekdays up until 26th August 2016.
This is a great special to give you a taste of this wonderful style of massage. I can highly recommend it :)
Vanessa Beckitt is a qualified Remedial Therapist registered with AAMT for Health Fund Rebates and is currently (18/8/16) trained to level 5 in Kahuna Massage.
Please contact us to confirm availability for a given date.
Nessa (Vanessa) Beckitt, Aidan Banfield and our two sons are the family that are your hosts at Grampians Paradise.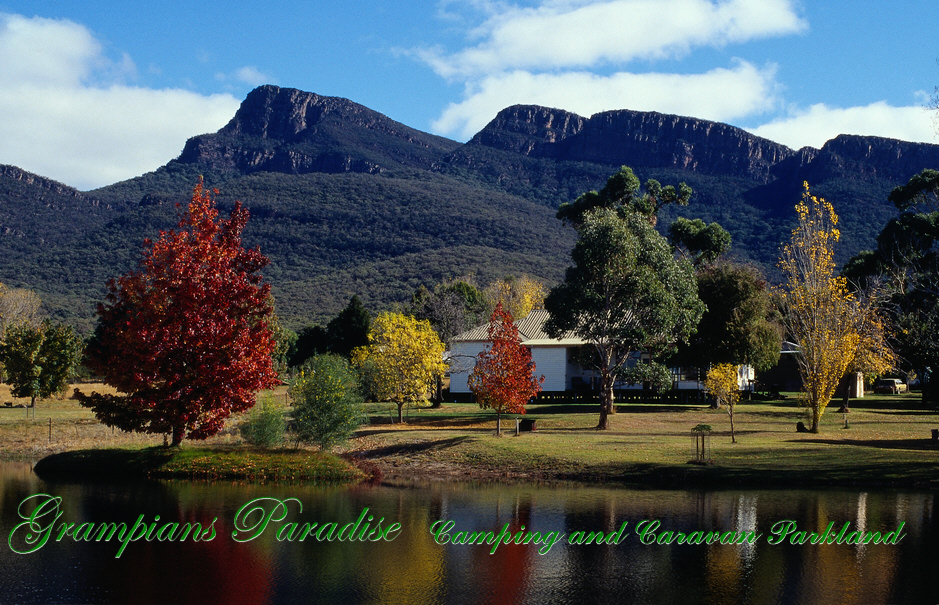 Looking for places to stay in the Grampians, Victoria, Australia?
We invite you to be our guests and to enjoy a relaxing holiday at Grampians Paradise Camping and Caravan Parkland, a beautiful caravan park with large grassed spacious sites with shady trees, nestled under the highest peaks of the Grampians, 750 metres from the National Park, within a beautiful rural country setting.
We are outside the crowded tourist area, with beautiful views of the mountains and surrounding countryside, but within easy reach of the popular Grampians attractions and Halls Gap (15 minute drive to the Gap).
With the spacious powered sites and unpowered sites taking some of the best locations within our parkland, we differ from most other tourist parks in that there are no rows of cabins interrupting the views of the grounds and surrounds. The small number of period style (vintage and retro) onsite caravans are scattered about the camping ground and within easy reach of the amenities and other facilities.
We trust you will enjoy the peace and tranquility of camping in our beautiful garden parkland overlooking our small lake. The camping ground is also surrounded by wetlands that are the home of many native Australian animals and birds. Birds and native animals including kangaroos and kookaburras can be seen from time to time in the camping ground.
Many of the spacious grassed camping areas are shaded by tall trees and surrounded by gardens with beautiful Australian native flowers, which attract a myriad of native birds and animals. The Parkland sites have great views of the Grampians Mountains.
Your hosts,
Aidan Banfield & Vanessa Beckitt.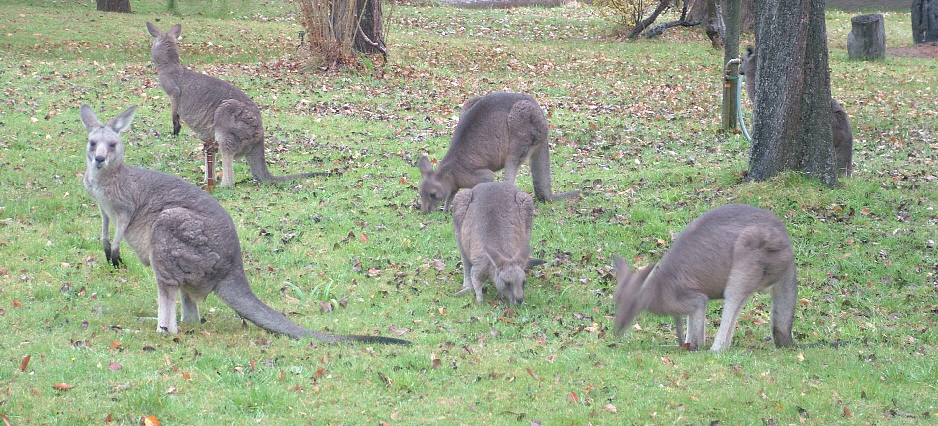 Kangaroos grazing in the early morning in front of our little lake, right beside the Lakeside Powered Sites.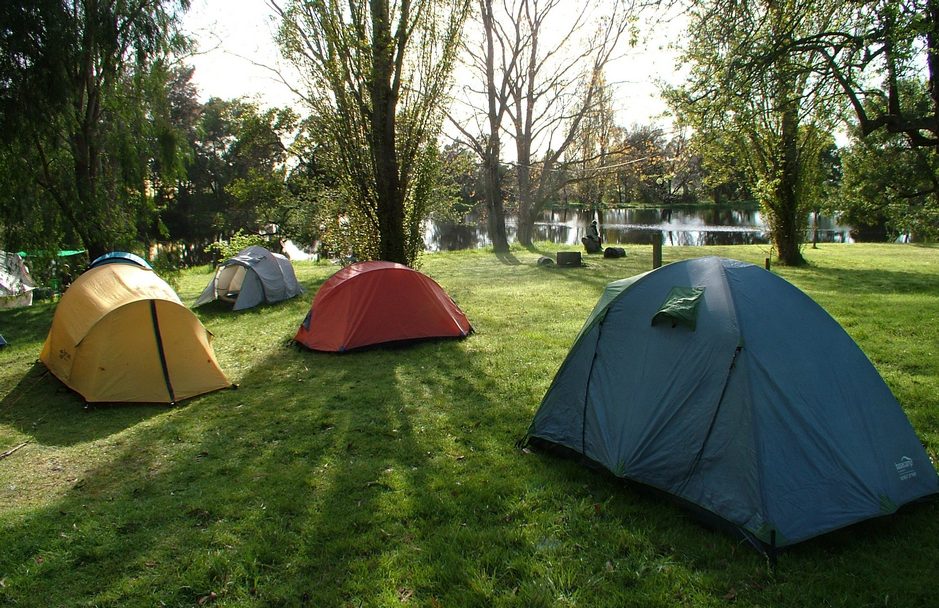 Early morning light and green grassy sites by our little Blue Lake. This is Lakeside 3 (L3) a Lakeside Powered Site suitable for camper trailers, tents and small or mid sized caravans.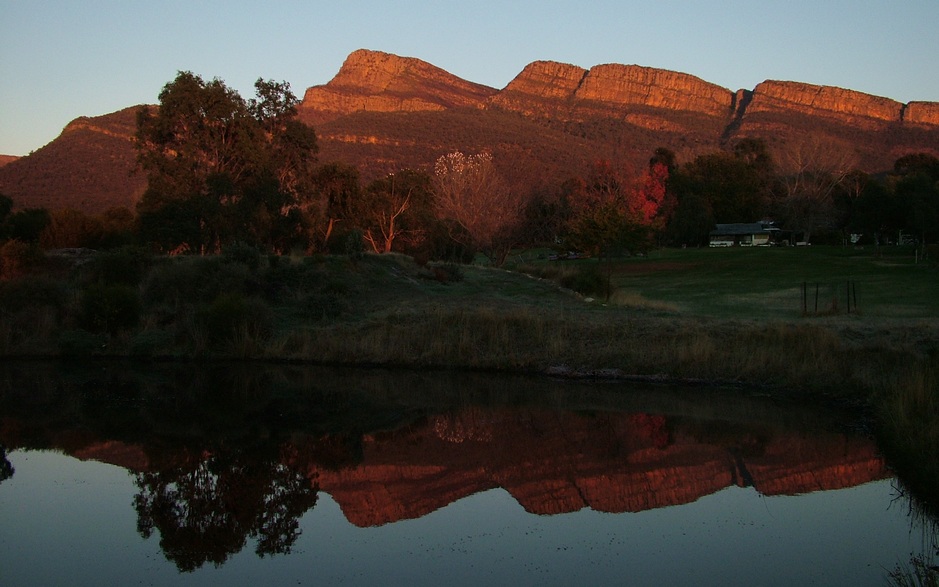 Sunrise on the cliffs of Redman Bluff reflected in the waters of Observatory Lake, one of thirty wetland ponds of the Redman Bluff Wetlands that surround three side of Grampians Paradise Camping and Caravan Parkland.
While our 2015 calendar is now sold out, I've left the below pictures up for you to enjoy.