Accommodation Information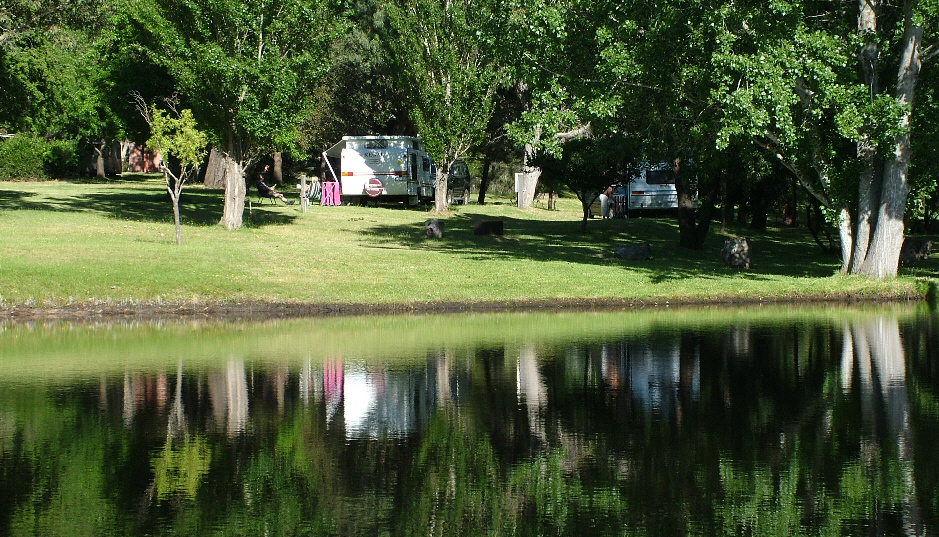 The three lakeside Powered Sites, and the area we keep open to the left and towards the lake for all our guests to enjoy.
Our accommodation options includeds spacious grassy powered and unpowered camping / caravan sites, and our period style vintage onsite caravans.
All our caravans have stovetop, kettle, electric fry pan, toaster, clock radio, fan heater, and small refrigerator, cutlery, crockery, saucepans etc. Guests need to bring their own bedding, pillow, blankets or doona and linen or sleeping bags.
All the caravans are within 35 metres of our clean environmentally friendly amenities block.
6.7 metre or 5.9 metre long with double bed, and semi-separate area with four single bunks.
For lots of information and picture of our retro onsite caravans see the page Vintage and Retro Onsite Caravans.
Both are undergoing restoration works.
3.3 metre or 3.9 metre long. Either double bed or two single beds and table that lets down to make double bed. Best suited for two people.
For lots of information and picture of our vintage onsite caravans see the page Vintage and Retro Onsite Caravans.
Well grassed sites with 15amp power outlet. Shady or sunny sites.
Our powered sites are large, and grassy sites in a parkland setting, many with beautiful large trees (some shady, some sunny. P1 and P2 have views of the mountains, and L1, L2 and L3 overlook our little lake). The powered sites are much like our unpowered sites, are mixed in together with the unpowered sites , and other than the powered sites have electricity supplied to them, you can't tell them apart.
Not included: No potable water to the sites (there is a centralised treated drinking water tap for filling water bottles).
Not included: There are no concrete pads (our sites are all grassy sites).
Not included: There is no sullage at the sites. Grey water is ok to put on the ground which it readily soaks into.
Not included: We do not have a dump point for toilet waste (there is one in Ararat and Stawell - each 30 minutes drive away).
Well grassed spacious sunny or shady sites.
Our unpowered sites (like our powered sites) are large to very large. Some are huge, at up 350 square metres and able to comfortably take a group up up to 15 people of 3 families. Others are more suited to a single family, a couple or even an individual.
Some have views of the mountains, some are amounts the big trees, and some over look our little lakes and wetland ponds.
A Site map showing the location of the sites (colour coded by type) and onsite caravans can be found on the Choosing Sites by Location page.
Our basic camp kitchenette is outdoors with a roof (set up on a veranda), has a gas stove top and grill; gas cooking ring, and three gas

barbecue

, a shared refrigerator and electric kettle.
You need to bring your own kitchen equipment (pots, fry pan, cutlery, plates, bowls etc).
What we don't have: Please note that there is no microwave.
Outdoor wash-up sinks with hot and cold water are located at the Amenities Block.
Lakeside 1 (L1), a powered Lakeside Site at Grampians Paradise is a loverly shady, waterside site suitable for Caravans, Tents or Motor Homes. This photo was taken between Christmas and New Year 2013.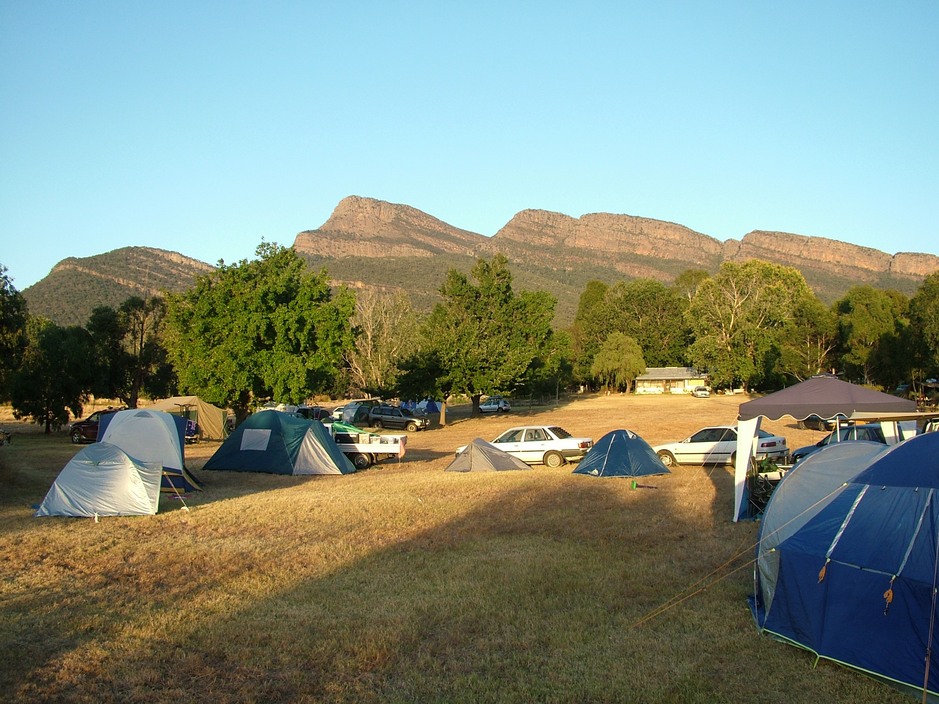 We have some very large site at Grampians Paradise that are idea for family groups or groups of friends. The tents in the closest foreground are on Parkland (9), a Premier Unpowered Site, and the tents under the trees on the left are on P4 to P6.
Grampians Paradise Site Map (this map is accurate to scale).
All of our sites have something special about them. It might be they are shady, or are big, by our lake, have a fire place (available for use in late autumn, winter and spring) or have great views of the mountains.
This map is to scale, and some of the sites are huge. South 7 (S7) for example is 18 by 10 metres in size (180 square metres). Even North 3 (N3) is 8 by 9 metres in size.
To help you select your site we have two list with photos. For these lists go to Sites by Location or Area or Sites by Classification or Type (each type of site has a different price to other types - see the tariff page).