What is An Exclusive Wildlife Stay? Find out on the Exclusive Wildlife Stays Information Page...
If you prefer talking with someone, or you are having difficulties with the online booking page we are very happy to answer your questions by phone
or to do a phone booking with you. You can contact us on (03)53566309 or by email or use our Enquiry Form.
Also please take advantage of the information and view the pictures on our Website - it is really helpful for working out if Grampians Paradise is your ideal destination and includes a really helpful site map.
Reviews from our visitors book
"Thanks Aidan.
Just to inform you that my friends and I enjoyed our stay in Grampians Paradise. You are a wonderful help to make the best trip we have had in a while. Cheers"
Suhaila Usuludin - March 2015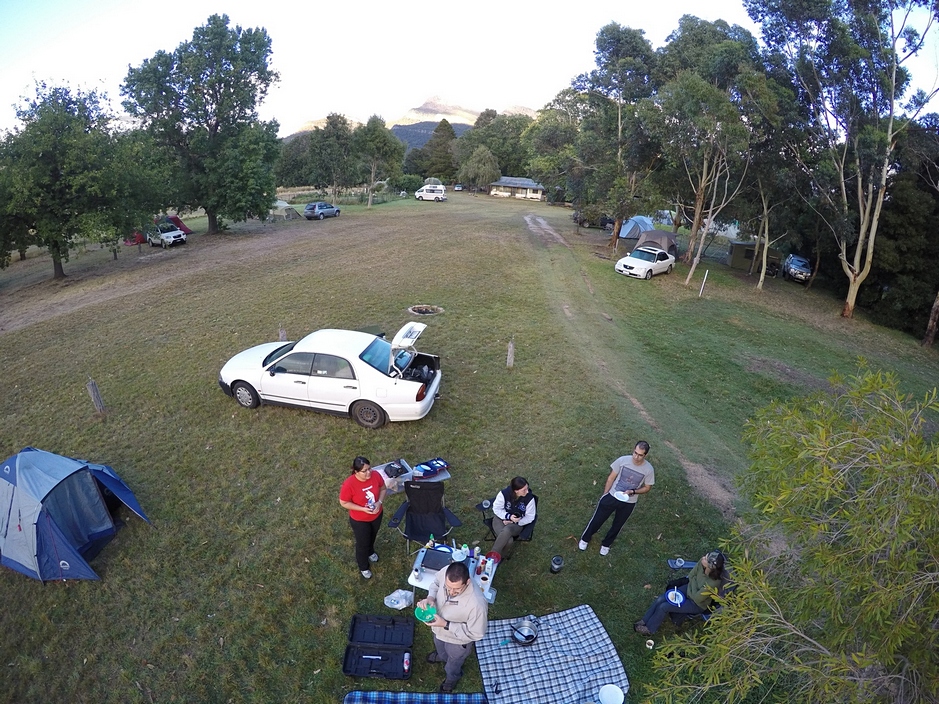 Even when booked out Grampians Paradise offers lots of space, helping to make it easy to enjoy camping at the Grampians National Park. This is Parkland 12 (P12) a premier unpowered site on the Labour Day long weekend 2015.
This is a special place. We only intended to spend a night (we were on a ramble across western Victoria to Mt Gambier) and ended staying 3 (it was fortunately off-season). Beautiful, natural setting that has been nurtured by a conservation-minded family over three generations. Swamp wallabies and kangaroos everywhere, 25 minutes to Halls Gap with none of the crowd. Good basic facilities using water drawn from their own lake system. It was exactly the sort of natural peaceful place we were hoping for. We will definitely be heading back there.
Janice and Victor (Carnegie) early September 2022
"I just wanted to say thank you for accommodating us at your camp ground this weekend. It was fantastic! We were so impressed with your facilities, especially the fire pit -- and the hospitality was superb. We got to meet your father [Tom Banfield] who told us about the climbing he did in the area. We ended up climbing at the Chimney Pots from his suggestion. We've climbed in the Grampians many times before but never at the Chimney Pots, and we had a great time. We were the only climbers there and there was certainly an adventurous feel that you don't get in many crags in Victoria."
Sarah Griffith April 2016
"Hello Aidan,
I just wanted to send you a quick email to say how much we enjoyed staying at your caravan park. Everything was perfect, the van was lovely, and the surrounds are beautiful truly one of the nicest caravan parks I've stayed in. Thank you"
Jason Luca - July 2014
"Great and rustic setting, beautiful views of the lake, farms and mountains. Nice and clean caravan and toilets, sufficiently equipped. What a wonderful holiday".
Soh family, Malaysia.
"We all enjoyed our stay here at Grampians Paradise. It was very clean and tidy, and everyone was helpful. It was beautiful to listen to the birds, and watch them fly past, hundreds of them, and see all the lakes, wetlands and trees. The toilets were especially clean. The caravan was roomy and comfortable, with all accessories. Great stay."
Marion, Melbourne.
"The established garden and bird life, the native plantings and encompassing views are so beautiful. The inspirational vision and scope of the wetlands project is admirable. And after all that the daily evidence of 'hard yakka' needed to work through this vision is so impressive. Collectively - add isolation and tranquility - paradise."
Lois, Phillip Island.
"Great to have the privilege of once again enjoying the beauty and tranquility of this special place. We hope to return yet again! Thanks for your hospitality."
Kevin and Robin, Inverloch.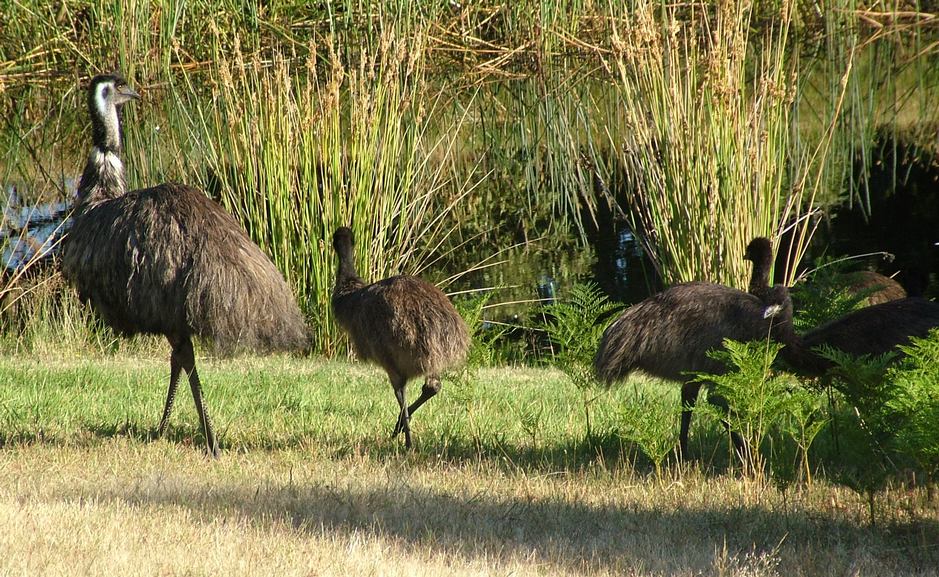 From time to time we have special wildlife treats at Grampians Paradises. In Late Summer and early Autumn 2014 and 2015 we had repeated visits to our Redman Bluff Wetlands and areas within sight of the camping ground by an Emu Dad and his eight nearly adult chicks. Mum lays the eggs, and then the she disappears and the rest is up to Dad. He sits on the eggs and then with his strong maternal nature raises the chicks until they are of an age where they are ready to be independent. The water of the wetlands, and green feed in an otherwise dry landscape is what they have been coming for.
As we don't feed the wildlife, they are remain cautious of people a keep a little bit away at a safe distance. SPECIAL NOTE: Feeding the birds and animals would quickly lead to the disruption and collapse of a well functioning ecosystem and loss of many of our special animals and birds that frequent Grampians Paradise Camping and Caravan Parkland.
Follow these links for information on:
Exclusive Wildlife Stays information page,
and the Exclusive Wildlife Stays Welcome Package where there is more detailed information.
Stories from some of those who have experienced an Exclusive Wildlife Stay
The History of the Creation of a wildlife haven at Grampians Paradise
More pictures and information of our wildlife, native birds and their home, our created Redman Bluff Wetlands
and the story page about my letter to David Attenborough and the letter he sent in reply
Sorry no Pets.
Rates effective 1/3/2022 (Including rates for Exclusive Wildlife Stays) and subject to change without notice.
There is some important and really useful additional informational that you need to read before making a booking to stay at Grampians Paradise Camping and Caravan Parkland in our Terms and Conditions. We have written and formatted our terms and conditions so that they are easy to read and understand. The terms and conditions information includes information on how you can pay, deposits, what to do if you need to cancel or change the details of your booking, night time noise restrictions after 11:00pm, when and where you can have camp fires and lots of other useful information. Click here to read our terms and conditions.
Grampians Paradise offers a retreat from the pressures of busy life — a place to relax and to relate to a rich and varied country environment. You can take time to sit and enjoy the views of lakes and mountains and listen to and watch the native Australian birds and animals.