Redman Bluff Wetlands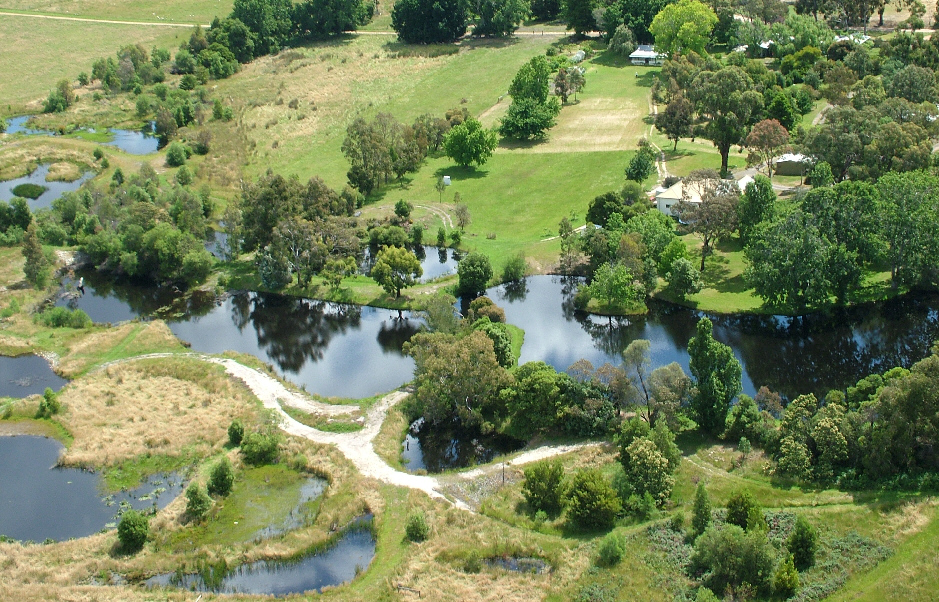 One of the things that has always made Grampians Paradise something special is the wealth of native birds, frogs and animals. Our plantings of mature trees and shrub gardens have helped to attract and support native creatures, along with the abundance of water in the surrounding environment. Blue Wrens and Kangaroos, Kookaburras and the odd Echidna are some of our special residents.
Since May 2000 a major project of constructing a series wetlands around the camping ground has been undertaken. Made possible by some initial Landcare funding from Project Platypus, these wetlands which we call Redman Bluff Wetlands are now host to large beds of wetland plants and support a vast numbers of frogs. The chorus of frog calls during spring is a treat rarely heard elsewhere nowadays. The best time of year to hear the frogs is late August and early September, when the Pobblebonks are at their peak and the endangered Growling Grass Frog can be heard amongst the Southern Brown Tree Frogs and Common Froglets. These are just some of the eight or so species of frogs now living in Redman Bluff Wetlands.
Like the frogs the wetland plants have their time of year when they are at their best. Dormant during the dry autumn they start to grow during the winter wet, and flourish during spring, with their peak of growth in November. This is the time of year to see the wetlands at their best. Flowering follows through into December and late December and into January seeds are set and dropped, starting again the cycle of life.
Part of the success of the wetland plants (including aquatic plants, emergent wetland plants and plants of wet and waterlogged soils) is that during the construction of our wetlands extensive beds of native Australian wetland plants were planted. This has increased the biodiversity of our wetlands and helped to out compete weeds. Wetland plants were provided by Wetlands Creations wetland plant nursery, also on our property and run by Aidan Banfield. For more information about the wetlands plants in Redman Bluff Wetlands and the wetland plant nursery have a look at these websites. www.wetlandscreations.com.au and www.wetlandsinfo.net.au
In turn the success of our wetland birds, marsupials, mammals, frogs and other creatures is a result of an increase in the amount of food and cover – habit has been provided by the carpets and stands of wetland plants and the insects they support. By Providing 'Flora for Fauna' we have seen a dramatic increase in the number and species of wetland creatures at Redman Bluff Wetlands.
The wetlands are designed to provide a series of various sized water bodies in close proximity. Some of the water bodies, including the larger lakes are deep and provide permanent water. The majority of the 30 plus water bodies are designed to progressively dry out over the summer period. At the end of the summer season, some ponds will have small areas of water left and others completely dry. This is an important factor in providing feeding areas for birds as mud flats progressively become exposed, or accessible just under water. The drying cycle not only provides opportunity for food for birds, it creates the necessary cycle of dry and wet needed by many Australian wetland plants for seed to be able to germinate, and the next generation of plants to grow. Animals, birds, small marsupials, lizards, and frogs all benefit from this changing environment.
If you are staying at Grampians Paradise Camping and Caravan Parkland you are welcome to walk around the wetlands at any time. If you are not staying here visits are welcome, but you will need to contact us to arrange a time. We have a number of brochures (on the birds, the wetlands and plants) that we can provide you with to help you enjoy our wetlands and there inhabitants.
Redman Bluff Wetlands is a wonderful example of how creating or restoring a wetland can enrich an environment, provide habitat for many native Australia animals and birds and provide a beautiful environment to visit or live in. It gives us great pleasure to be able to share this environment with other and look forward to your visit.