If you prefer talking with someone, or you are having difficulties with the online booking page we are very happy to answer your questions by phone
or to do a phone booking with you. You can contact us on (03)53566309 or by email or use our Enquiry Form.
Contact Details and Where We Are - our Location and address
Grampians Paradise Camping and Caravan Parkland
Ph (03) 5356 6309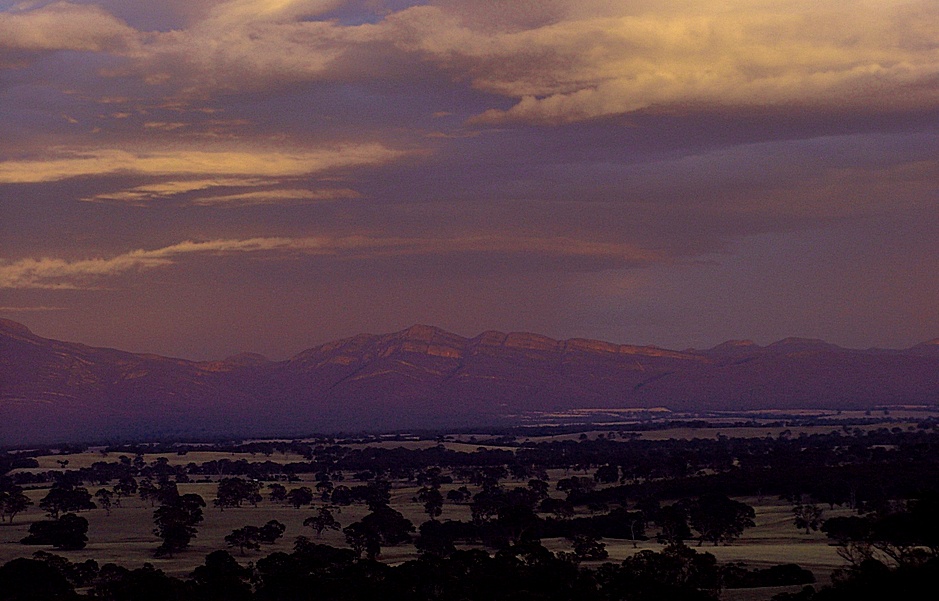 View of the Grampians shortly after leaving Ararat on the drive to Grampians Paradise as you go over "carroll's cutting"
For online booking enquiries, you can use our booking enquiry form:
Directions
From Melbourne travel via the Western highway to Ararat and continue straight through the town (do not turn right to Stawell or Adelaide). Drive straight through the shopping street (Barkly Street). This becomes the "Grampians Scenic Route",(the Ararat-Halls Gap Road.) 14 km past Moyston you will see a large blue sign "Grampians Paradise Parkland". Turn left into Long Gully Road (Gravel Road). Follow the gravel road for 4.3 km. Go straight across the intersection with Redman Road. The camping Ground is 200 metres on the left. Watch out for kangaroos crossing the road after Ararat (especially in the evenings).
From Adelaide take the Western Highway to Stawell. Turn right at the cross road to Pomonal (20 km) and then turn and continue for 3km. Turn right into Waterhole Road (which is sealed for 1 km, then 4 km of Gravel Rd). Follow the signs to Grampians Paradise (5km). If you miss the Waterhole Road turnoff, there is a a large blue sign "Grampians Paradise Parkland" at the next intersection (Long Gully Road).
Once again please watch out for Kanagroos (and other wildlife), and take your time especialy if traveling in the evenings, early morning or at night time. We have a lot of Kangaroos, Emus and other wildlife about the Grampians area, and they don't always get out of the way of cars.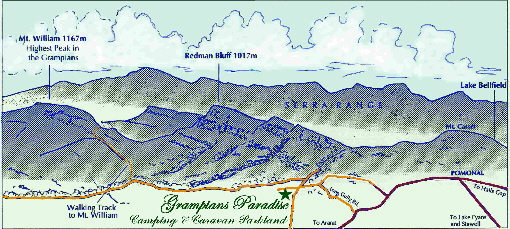 The panorama shown above, of the Grampians mountain ranges within the Grampians National Park (Victoria, Australia) and the sketch map representing most of the left half of the panorama give a concept of where Grampians Paradise Camping and Caravan Parkland sits within our landscape that is dominated by the almost 100 kilometre long Grampians mountains.
Mt William (the rounded topped mountain just to the South West of Grampians Paradise) is the highest mountain of the Grampians National Park at 1167 metres above sea level. The Summit of Redman Bluff (1017 metres above sea level) and Long Gully Cliffs with their large escarpment of sandstone cliffs, is just 2.5 kilometres west of Grampians Paradise. We are just 700 metres form the edge of the Grampians National Park.
Grampians Paradise Camping and Caravan Parkland is almost exactly half way along the eastern edge of the Grampians, 47 kilometres (as the crow flies) from Mount Zero, the Grampians most northern peak, and 50 kilometres (as the crow flies) from Mount Sturgeon, the Grampians most southern peak.
Grampians Paradise is 4 kilometres off the main sealed road from Ararat to Halls Gap, and after a short 4km travel down the gravel road you arrive at our secluded, beautiful parkland which has some of the most spectacular views of the Grampians.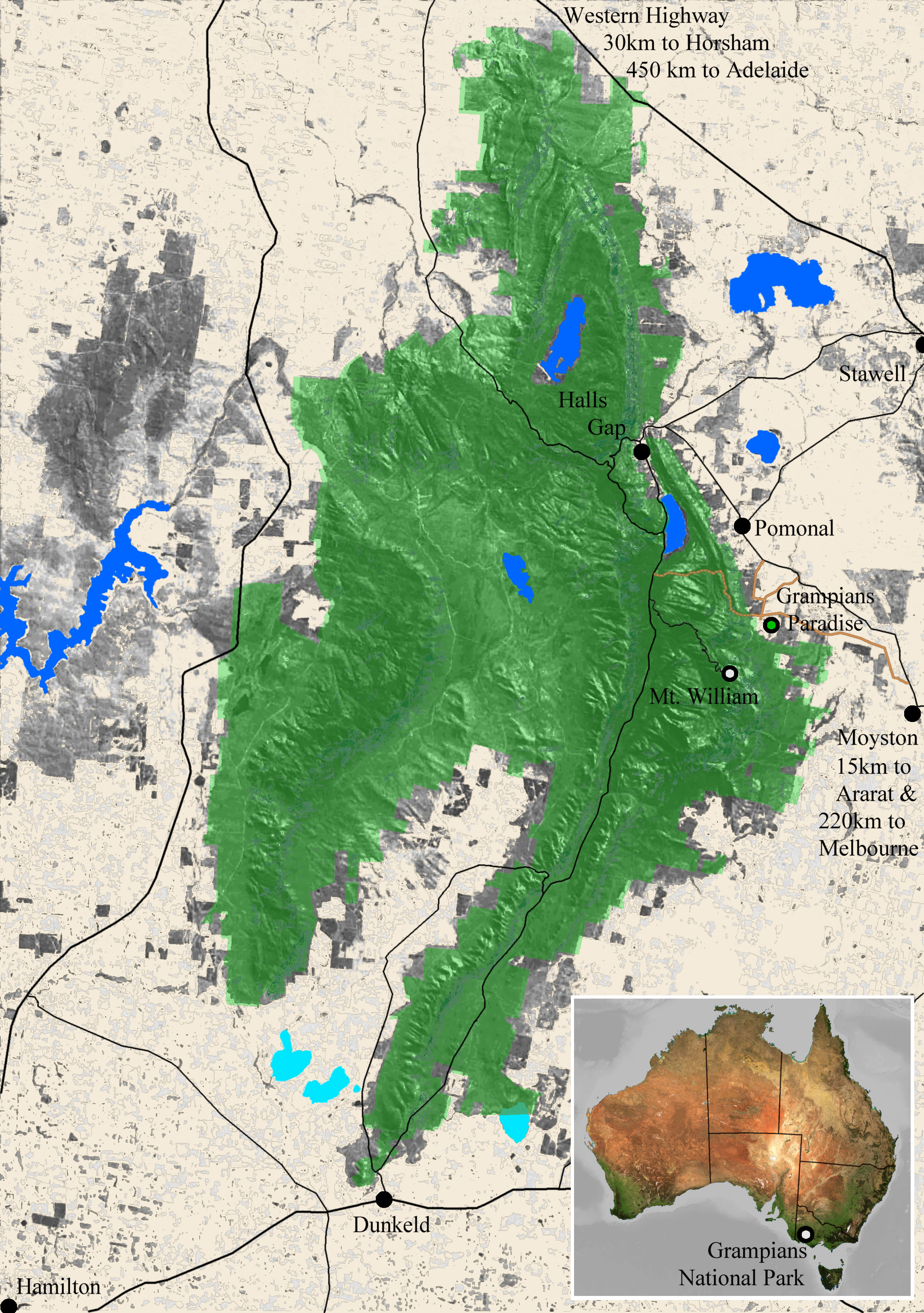 Some more pictures from the air.
Over the years I've had the fun of flying over the Grampians mountains and Grampians Paradise Camping and Caravan in a light plane and even a hot air balloon flight, starting from the Parkland Sites at Grampians Paradise. I've put together a collection of pictures (in the series below) from several of these flights in an order that would represent flying to and "landing" at Grampians Paradise.






Follow these links for information on:
Exclusive Wildlife Stays information page,
and the Exclusive Wildlife Stays Welcome Package where there is more detailed information.
Stories from some of those who have experienced an Exclusive Wildlife Stay
The History of the Creation of a wildlife haven at Grampians Paradise
More pictures and information of our wildlife, native birds and their home, our created Redman Bluff Wetlands
and the story page about my letter to David Attenborough and the letter he sent in reply
Sorry no Pets.
Rates effective 1/3/2022 (Including rates for Exclusive Wildlife Stays) and subject to change without notice.
There is some important and really useful additional informational that you need to read before making a booking to stay at Grampians Paradise Camping and Caravan Parkland in our Terms and Conditions. We have written and formatted our terms and conditions so that they are easy to read and understand. The terms and conditions information includes information on how you can pay, deposits, what to do if you need to cancel or change the details of your booking, night time noise restrictions after 11:00pm, when and where you can have camp fires and lots of other useful information. Click here to read our terms and conditions.
Grampians Paradise offers a retreat from the pressures of busy life — a place to relax and to relate to a rich and varied country environment. You can take time to sit and enjoy the views of lakes and mountains and listen to and watch the native Australian birds and animals.