What is An Exclusive Wildlife Stay? Find out on the Exclusive Wildlife Stays Information Page...
If you prefer talking with someone, or you are having difficulties with the online booking page we are very happy to answer your questions by phone
or to do a phone booking with you. You can contact us on (03)53566309 or by email or use our Enquiry Form.
Also please take advantage of the information and view the pictures on our Website - it is really helpful for working out if Grampians Paradise is your ideal destination and includes a really helpful site map.
Explore the Grampians - Tour guides of the Grampians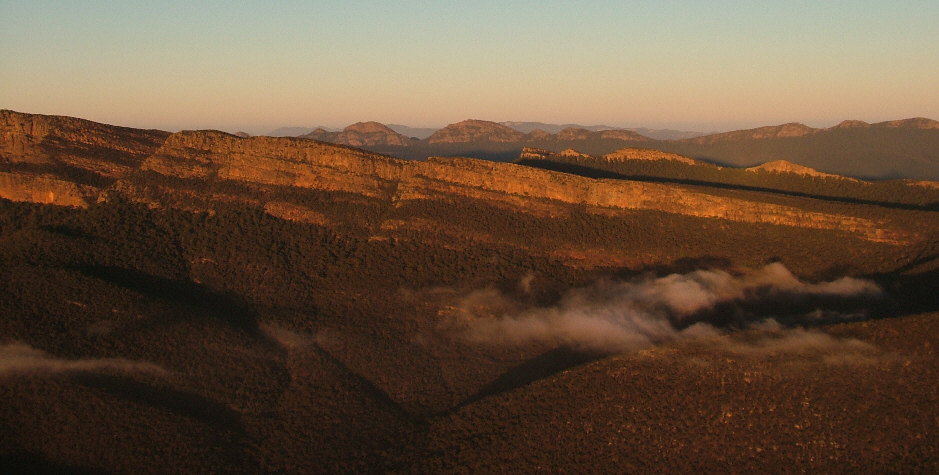 Sun Rise from a Hot Air Balloon. The Grampians mountains above Grampians Paradise, waiting to be explored.
We have prepared a number of four page leaflets with maps and tour guides to help our guests discover the Grampians from Grampians Paradise Camping and Caravan Parkland. These are available from the reception office for two dollars each.
G1 - The Pick of the Grampians.
An introduction to the Grampians by car with short walks to some of the most popular scenic spots.
Includes: Mt Victory, Reid's Lookout, The Balconies, McKenzie Falls, Lake Wartook, Boroka Lookout, Halls Gap. Wonderland Range and The Pinnacle, Silverband Falls, Lake Bellfield, Mt William or Mt Rosea.
G2 - A circular walk through Wonderland.
A drive through Halls Gap to Silverband Road. A 3 to 4 hour walk past waterfalls, through rugged rock formations, and the Pinnacle lookout.
G3 - The spectacular eastern side of the Grampians
A selection of places to visit and walks in the Pomonal area. Pomonal Nature Walk, Mt William, Bridal Trail to Lake Bellfield, Mt Cassel.
G4 - Bridal Trail
Crossing Mt William Range from Pomonal to Lake Bellfield and exploring the historic water tunnel and fluming.
G5 - Mt William Circuit & Mafeking
A drive for 4WD or vehicles suitable for including rough steep roads circumnavigating Mt William/Major Mitchell Plateau. Mafeking gold rush site, Jimmys Creek and Redman Rd.
G6 - Victoria Valley & circuit of the Victoria Range
A spectacular drive through Victoria Valley, and western side of Victoria Range including Chimney Pots and Aboriginal Art Rock Shelters (interim publication).
G7 - Four wheel drive (two days)
Crossing the Victoria Range; the Asses Ears and Northern Grampians (interim publication).
G8 - The Grampians with limited walking
Driving to good view points which can be enjoyed from the car and short walks including those suitable for wheel chairs.
G9 - The Pick of the Grampians in one day.
An introduction to the Grampians by car with short walks to some of the most popular scenic spots. Can be used as a route through the Grampians for those traveling on to Adelaide. The Grand Canyon, Boroka Lookout, Mt Victory, Reid's Lookout, The Balconies, McKenzie Falls.
G10 - Hollow Mountain and Mt Hollow
A walk involving rock scrambling and for experienced walkers a rock scramble through a series of caves.
G14 - Grevilleas of the Grampians
A two day drive covering a large portion of the Grampians to see 9 of the 10 species of grevilleas growing in the Grampians.
G15 - Suggestions for wet weather days
Drives, winery visits, Ararat museums, walks in wet weather gear.
P1 - A walk around our parkland
A walk around Grampians Paradise Camping and Caravan Parkland highlighting some of our native plants and gardens. Information about our wetlands project and wildlife corridor.
P2 - Redman Bluff Wetlands
A guide to the environmental wetlands surrounding Grampians Paradise.
P3 - Redman Track Wildflower and natural fern garden.
Walk, or drive and walk from Grampians Paradise.
Follow these links for information on:
Exclusive Wildlife Stays information page,
and the Exclusive Wildlife Stays Welcome Package where there is more detailed information.
Stories from some of those who have experienced an Exclusive Wildlife Stay
The History of the Creation of a wildlife haven at Grampians Paradise
More pictures and information of our wildlife, native birds and their home, our created Redman Bluff Wetlands
and the story page about my letter to David Attenborough and the letter he sent in reply
Sorry no Pets.
Rates effective 1/3/2022 (Including rates for Exclusive Wildlife Stays) and subject to change without notice.
There is some important and really useful additional informational that you need to read before making a booking to stay at Grampians Paradise Camping and Caravan Parkland in our Terms and Conditions. We have written and formatted our terms and conditions so that they are easy to read and understand. The terms and conditions information includes information on how you can pay, deposits, what to do if you need to cancel or change the details of your booking, night time noise restrictions after 11:00pm, when and where you can have camp fires and lots of other useful information. Click here to read our terms and conditions.
Grampians Paradise offers a retreat from the pressures of busy life — a place to relax and to relate to a rich and varied country environment. You can take time to sit and enjoy the views of lakes and mountains and listen to and watch the native Australian birds and animals.