What is An Exclusive Wildlife Stay? Find out on the Exclusive Wildlife Stays Information Page...
If you prefer talking with someone, or you are having difficulties with the online booking page we are very happy to answer your questions by phone
or to do a phone booking with you. You can contact us on (03)53566309 or by email or use our Enquiry Form.
Also please take advantage of the information and view the pictures on our Website - it is really helpful for working out if Grampians Paradise is your ideal destination and includes a really helpful site map.
Groups, clubs and events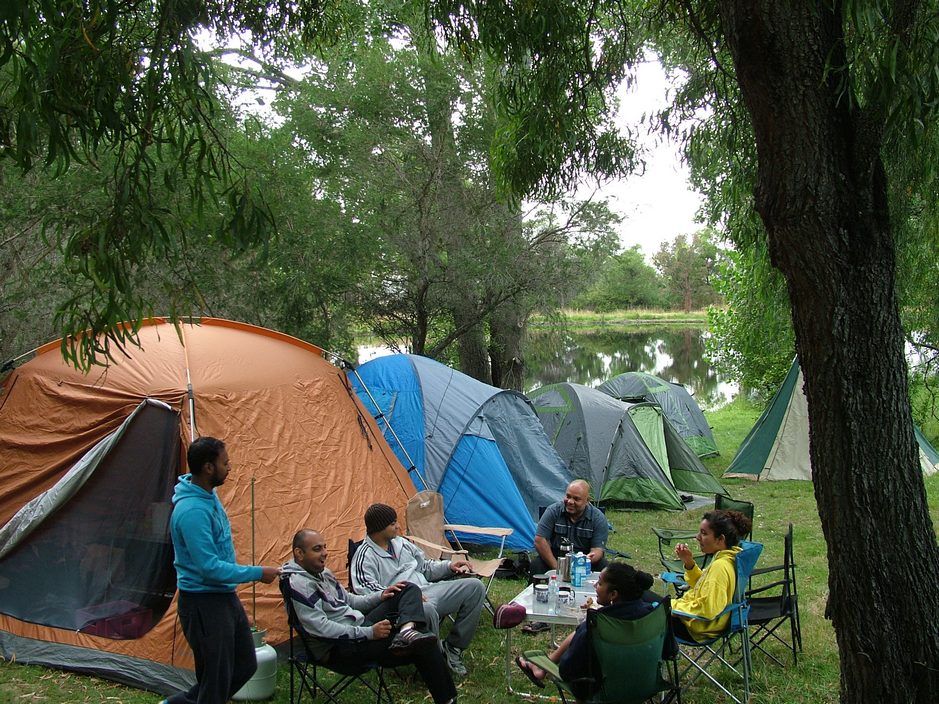 We have some very large site at Grampians Paradise that are idea for family groups or groups of friends. For information on very large sites see the Choosing Sites by Location page. While Lakeside 1 (L1), the site in the picture above, is a quite a large site it is by no means the largest at Grampians Paradise Camping and Caravan Parkland, with several sites being over twice its size.
Be our guests — enjoy a relaxing time at Grampians Paradise Camping and Caravan Parkland on Redman Farm nestled on the foothills of the Mt William Range of the Grampians National Park.
Grampians Paradise is ideal for group and individual holidays. Many groups of families, and groups of friends have enjoyed a time away at Grampians Paradise. It is also suitable for ecology groups, walking clubs, church groups, family reunions and other gatherings.
We have also had the pleasure of hosting a couple of wedding groups who decided a camping weekend wedding was just what they wanted.
Overlooking a small Lake the spacious grassed camping areas are shaded by trees and Australian native gardens. The amenities include showers with hot and cold water, a children's bathroom and an accessibility shower and toilet.
Grampians Paradise is available for day picnics and other functions.
Your hosts
Aidan Banfield & Nessa Beckitt.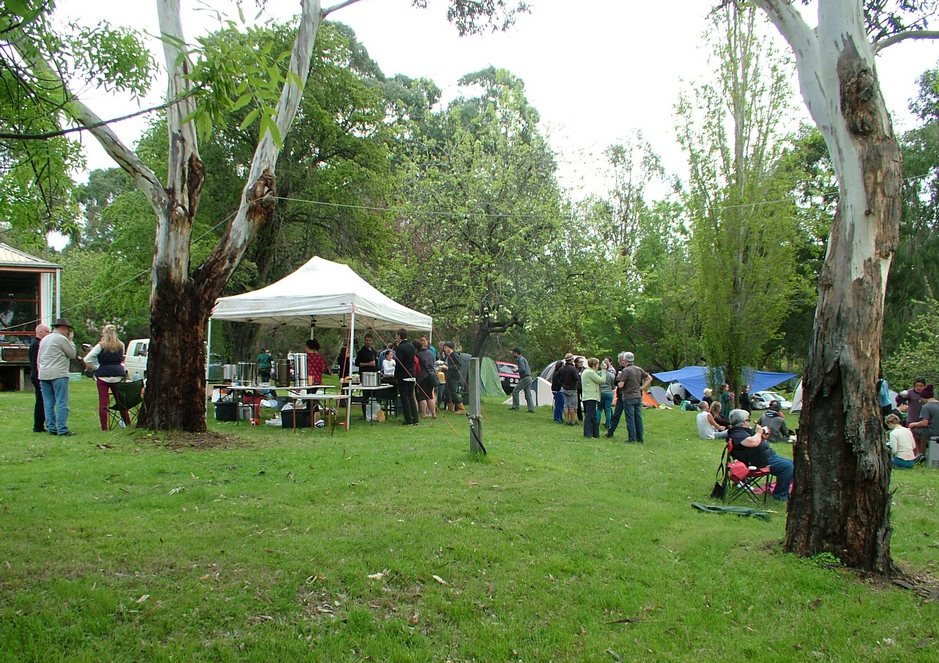 October 2013 Grampians Paradise was host to guests for a wedding held on a local property. The bride and groom camped on the lakeside sites, along with many of their friends. Celebrations extended over the weekend across 3 properties and included a lunch held at Grampians Paradise by the little lake for the approximately 90 wedding guest. Guests for the lunch included those staying at Grampians Paradise and motels and accommodation in Pomonal and east Grampians area.
The pictures in the left column of musicians and picnic were taken at another weekend wedding event at Grampians Paradise. Held in Autumn 2004, it was a very relaxed and enjoyable weekend wedding, with the ceremony being held by the lake, an outdoors reception on sun set and dancing in the "Hub" (camping ground hall) afterward. For their wedding night the bride and groom camped in an old style canvas tent on North Valley (NV) site, overlooking the waters of Valley Lake, listing to the frogs calling and enjoyed the bright stars in the dark night sky.
If you have an event that you think Grampians Paradise might be just the venue you are dreaming of, please contact us in advance. We will be more than happy to discuss your ideas with you.
Follow these links for information on:
Exclusive Wildlife Stays information page,
and the Exclusive Wildlife Stays Welcome Package where there is more detailed information.
Stories from some of those who have experienced an Exclusive Wildlife Stay
The History of the Creation of a wildlife haven at Grampians Paradise
More pictures and information of our wildlife, native birds and their home, our created Redman Bluff Wetlands
and the story page about my letter to David Attenborough and the letter he sent in reply
Sorry no Pets.
Rates effective 1/3/2022 (Including rates for Exclusive Wildlife Stays) and subject to change without notice.
There is some important and really useful additional informational that you need to read before making a booking to stay at Grampians Paradise Camping and Caravan Parkland in our Terms and Conditions. We have written and formatted our terms and conditions so that they are easy to read and understand. The terms and conditions information includes information on how you can pay, deposits, what to do if you need to cancel or change the details of your booking, night time noise restrictions after 11:00pm, when and where you can have camp fires and lots of other useful information. Click here to read our terms and conditions.
Grampians Paradise offers a retreat from the pressures of busy life — a place to relax and to relate to a rich and varied country environment. You can take time to sit and enjoy the views of lakes and mountains and listen to and watch the native Australian birds and animals.