What is An Exclusive Wildlife Stay? Find out on the Exclusive Wildlife Stays Information Page...
If you prefer talking with someone, or you are having difficulties with the online booking page we are very happy to answer your questions by phone
or to do a phone booking with you. You can contact us on (03)53566309 or by email or use our Enquiry Form.
Also please take advantage of the information and view the pictures on our Website - it is really helpful for working out if Grampians Paradise is your ideal destination and includes a really helpful site map.
Vintage and Retro Onsite Caravans
Enjoy a nostalgic experience and a roof over your head by staying in one of our four vintage and retro onsite caravans. At Grampians Paradise Camping and Caravan Parkland we have two 6 berth onsite caravans close together, and then only 40 to 50 metres away are our 3 berth 1950's van and 4 berth 1960's onsite caravan. None of our onsite caravans have an ensuite, but the toilets and showers at the campground amenities are within a 35 metre walk of all our onsite caravans. Some are closer. All the vans have space for a small tent to be pitched beside them.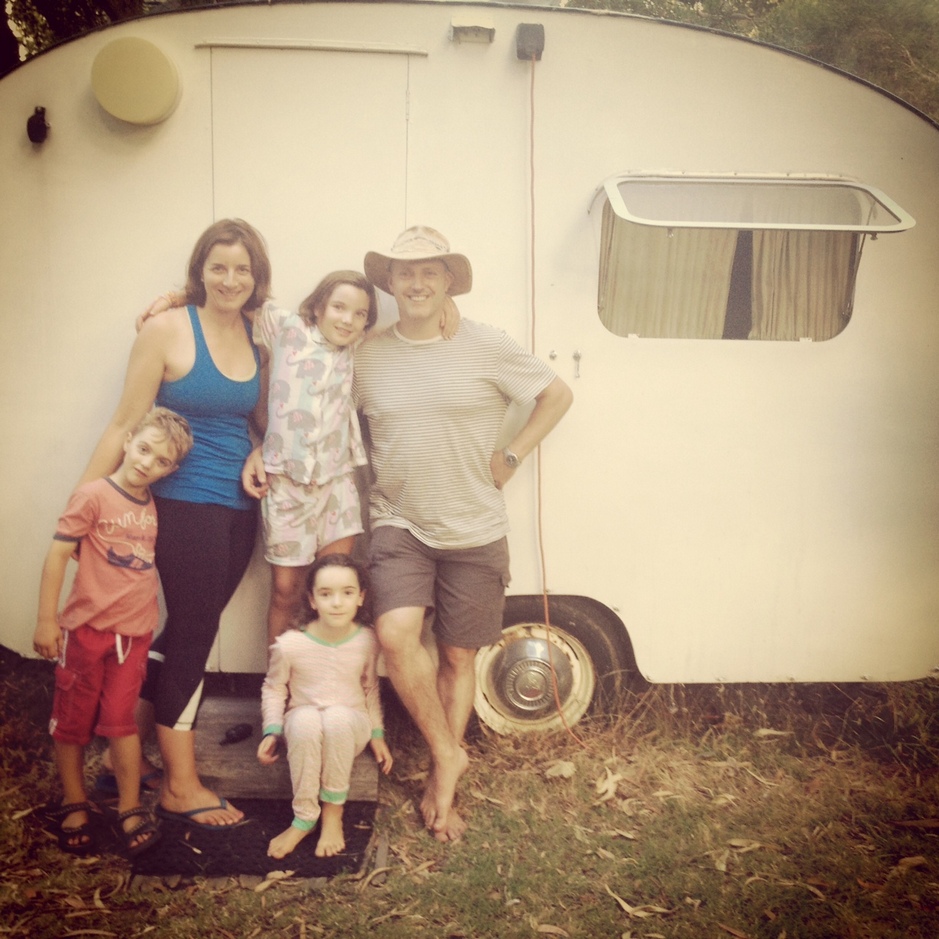 Taken on the Labour Day 2014 long weekend, one of our guest photographed their family in front of "Koala" our 3 berth 1950's onsite caravan in an old style "Sepia tone" effect. Koala while quite small at only 11 foot long (3.3 metres) is incredibly cute providing a genuine retro experience of caravanning and can work well for a couple.
All our caravans have stovetop, kettle, electric fry pan, toaster, clock radio, fan heater, and small refrigerator, cutlery, crockery, saucepans etc. Guests need to bring their own bedding, pillow, blankets or doona and linen or sleeping bags. Come prepared with lots of warm bedding, as nights can sometimes be cold.
All our onsite caravans are within 35 metres of our clean environmentally friendly amenities block (the vans don't have ensuite).
"Koala" (E Van) our 1950's 3 berth Onsite Caravan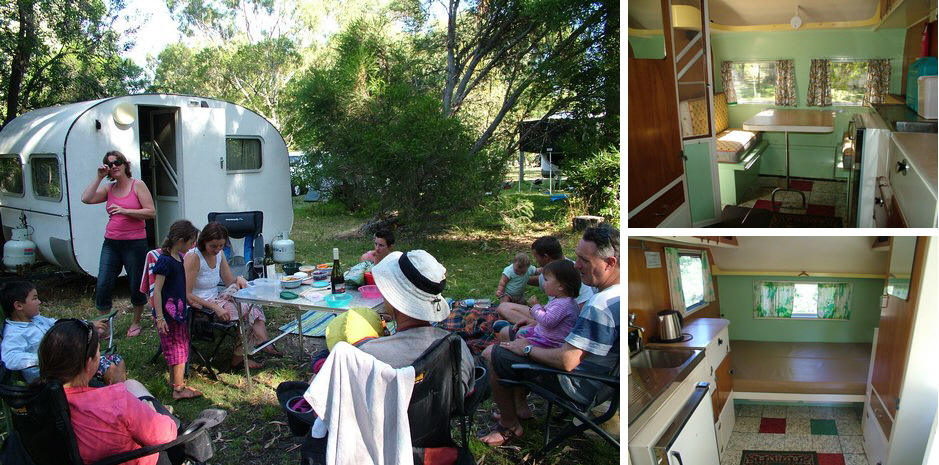 "Koala" (E Van) 3 Berth 11 foot 1950'S Timber Clad PERIOD STYLE CARAVAN
"Kookaburra" (C Van) our 1960's 4 berth Onsite Caravan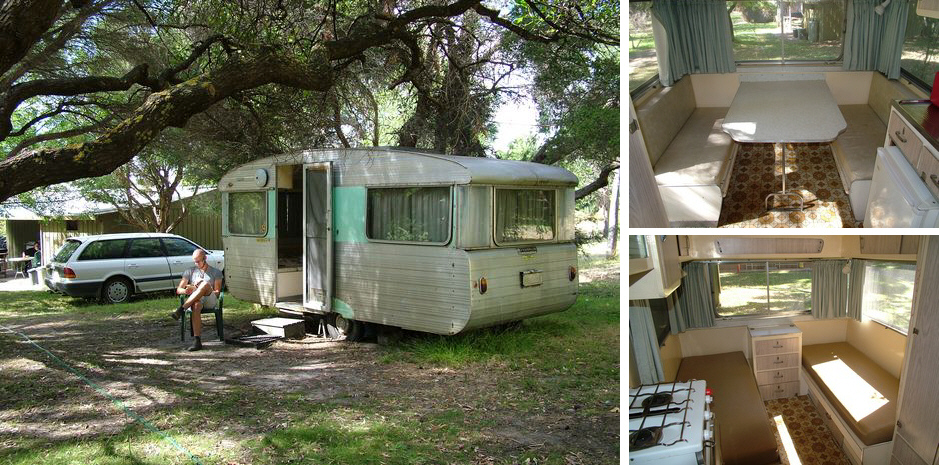 "Kookaburra" (C Van) 4 Berth 14 foot 1960'S FRANKLIN CARAVAN
"Emu" (D Van) our 1970's 6 berth Onsite Caravan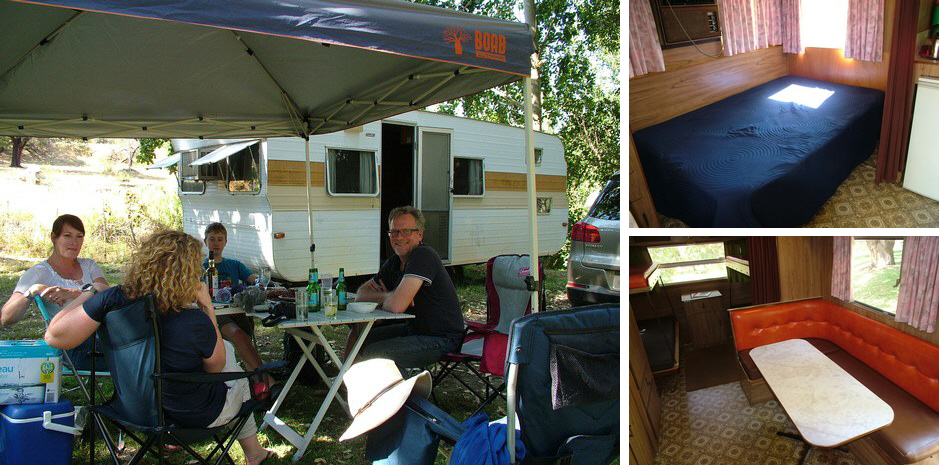 "Emu" (D Van) 6 Berth 19.5 foot 1970'S FRANKLIN CARAVAN
"Kangaroo" (B Van) our 1980's 6 berth Onsite Caravan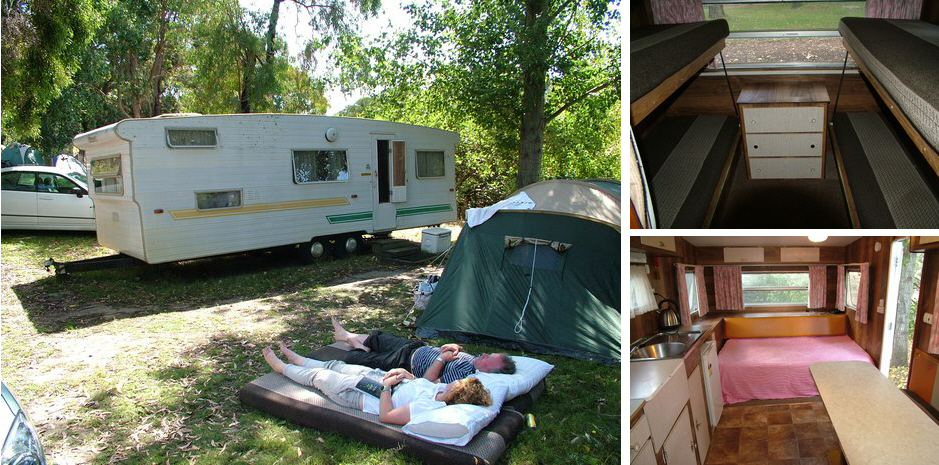 "Kangaroo" (B Van) 6 Berth 22 foot 1980'S CORONET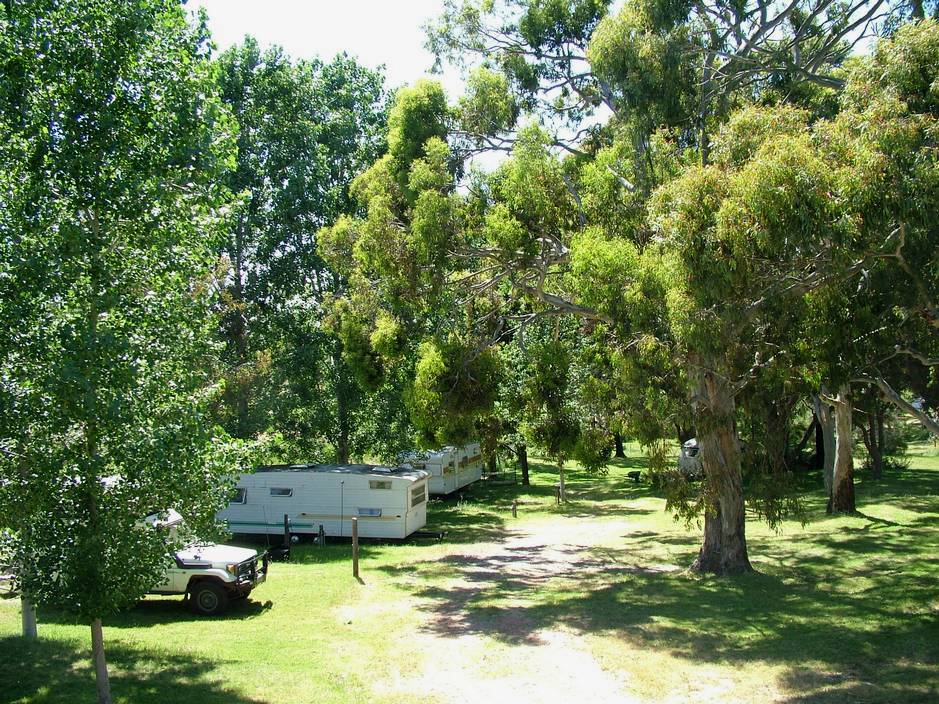 Our 6 berth onsite caravans are set within a parkland setting, with large trees and green grass. "Kangaroo" (B Van) is closest to the camera and Emu (D Van) is the one behind. The amenities are just out of the picture to the right.
Follow these links for information on:
Exclusive Wildlife Stays information page,
and the Exclusive Wildlife Stays Welcome Package where there is more detailed information.
Stories from some of those who have experienced an exclusive wildlife stay
The History of the Creation of a wildlife haven at Grampians Paradise
More pictures and information of our wildlife, native birds and their home, our created Redman Bluff Wetlands
and the story page about my letter to David Attenborough and the letter he sent in reply
Sorry no Pets.
Rates effective 1/3/2022 (Including rates for Exclusive Wildlife Stays) and subject to change without notice.
There is some important and really useful additional informational that you need to read before making a booking to stay at Grampians Paradise Camping and Caravan Parkland in our Terms and Conditions. We have written and formatted our terms and conditions so that they are easy to read and understand. The terms and conditions information includes information on how you can pay, deposits, what to do if you need to cancel or change the details of your booking, night time noise restrictions after 11:00pm, when and where you can have camp fires and lots of other useful information. Click here to read our terms and conditions.
Grampians Paradise offers a retreat from the pressures of busy life — a place to relax and to relate to a rich and varied country environment. You can take time to sit and enjoy the views of lakes and mountains and listen to and watch the native Australian birds and animals.